Egyptian Theatre
The Egyptian Theatre is operated and maintained by Preservation of the Egyptian Theatre, Inc. - a 501(c)(3) non-profit organization. Support from individuals and the community is essential as there is no operational funding received from outside sources.
Support the Egyptian Theatre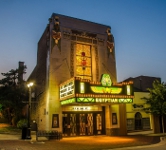 Help support the ongoing operations and maintenance of the historic Egyptian Theatre.
Donate